With our online CNC milling service, you can order custom milled parts or prototypes in just a few clicks. Get an advantage from our robust milling manufacturer network today! All products are certified by ISO 9001:2015, ISO 13485 and AS9100D, or registered in ITAR.
High Precision CNC Milling Service
We at Want.Net have been partnering with hundreds of CNC milling manufacturers in China, including factories with CNC lathes and turning centers, which can provide you with the highest precision CNC milling service at an affordable price point. And we will be responsible for inspection. Every single piece of the parts will be inspected thoroughly by our in-house members before shipping to our customers.
Our system continuously learns data from production to delivery. These data help us improve and optimize the process to meet every client's requirements, whether they need a small quantity of rapid prototypes or millions of CNC milled parts.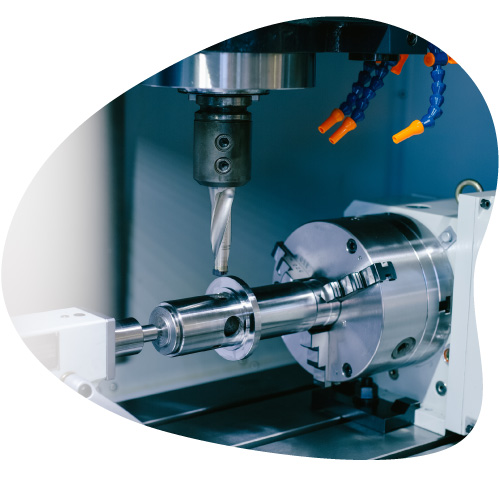 We offer a range of CNC milling tolerances to suit your budget and unique design requirements, including GD&T callouts. Based on your part's geometry and chosen material, we can accommodate standard thread sizes, machine custom treads, and reach tolerances of up to ±0.001". Our standard tolerances for CNC milled metals are ISO 2768-m and ISO 2768-c for plastics.
Why Choose Our CNC Milling Service
CNC Milling: Everything You Should Know
In our daily life, we are surrounded by machined parts manufactured by CNC machining. The CNC machining technique dates back to the 18th century and involves two distinct processes: CNC milling and CNC turning. This excellent manufacturing process uses CNC machining tools, allowing manufacturers to benefit from a considerable reduction in cost and time. The principle of CNC milling is quite easy to understand. The high degree of automated milling machines is controlled by a computer. The role of these machines is to cut in the mass in order to obtain a finished product of good quality.
What is CNC milling
By definition, milling consists of removing material in the form of shavings on an initial part using a tool commonly known as a milling cutter. Sometimes we use another tool called a grater. This manufacturing process results from two movements. One relies on the rotation of the cutting tool, while the other is aimed at advancing the workpiece.
Benefits of CNC milling
CNC milling allows manufacturers to produce complex parts cost-effectively, automated, and largely reproducible. The most important advantages of CNC milling:
Precision: CNC milling work with a precision that cannot be achieved in manual production. The form and dimensional tolerances of CNC milling meet the highest requirements.
Efficient: CNC machine tools work very efficiently and minimize material waste. This helps the manufacturing cost to be reduced.
Automation: Thanks to the high degree of automation, production costs can be significantly reduced compared to manual production.
Product range: CNC milling services can produce a wide range of components at a large scale.
Variants in CNC milling
When it comes to CNC milling, experts differentiate between up milling and down milling, depending on the feed direction of the CNC milling tool. With up milling, the milling cutter rotates against the feed direction of the workpiece, resulting in a thickening chip when cutting. With down milling, the cutting tool is fed with the direction of rotation. Down milling is always the preferred method wherever the machine tool, fixture, and workpiece allow.
What materials are available for CNC milling?
One of the advantages of CNC milling is the variety of materials used. Milling operations can be performed on metal, wood, aluminum, plastic, resin, or plaster. You can even use a milling machine to cut wax.
Types of products made using CNC milling
There are a large number of products resulting from CNC milling operations. Included are the fixtures, pulleys, links, valves, and arms. This technique can also be used to build architectural, airplane, and ship models. The most ingenious even go so far as to work stone with this machine tool. Some models can handle tough rocks, such as marble, granite, and slate.
You're 1-step away from our incredible quote of CNC milling service.